Announcement: My first book, The Soul Wars, will be published in a four novella series starting June 1, through Falstaff Books! The first novella is titled Souls Collide and for my subscribers and followers, I'm revealing the first cover.  (Squeee…..Her name is Kara and she's a  Valkyrie! Isn't she badass?)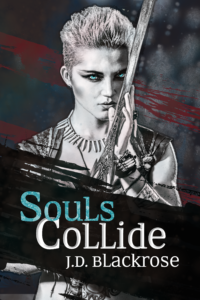 I need volunteers to read a manuscript of the book, not in book format yet, in exchange for writing real reviews, tell the truth, on Amazon and BN, Goodreads, etc, when the novella is up for pre-order. Anyone game? 
The whole book is four novellas and a total of 120K words. The titles are: Souls Collide, Souls Fall, Souls Rise and Souls Unite.
The Soul Wars
Kara, a Norse Valkyrie warrior, and Gaspard, a century's old vampire, find themselves in an improbable alliance to prevent the Soul Wars, an epic battle between vampires with souls and those without, which a god swears could shake the very foundations of the Earth.
Kara and Gaspard's relationship is rocky at the start but proceeds to something more. Can they nurture their unexpected feelings for one another while fighting for their lives?
In Souls Collide, novella 1:
Things thought long dead reappear, forcing Kara, Gaspard and their paranormally sensitive neighbor Adelaide, to work together to put them to rest forever, or at least, for now. Kara and Gaspard's growing attraction forces Kara to reconsider her feelings about vampires and her belief that they are soulless monsters.