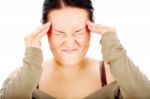 Headaches.  I want to talk about headaches today. Mostly because I have one that started yesterday and has the stamina of the Energizer Bunny. I've learned by now that my headaches come in many forms. The physical ones that come from stress, like the one I have now; the migraines that come from my injuries to C2 and C3 in my neck that are crushers and leave me incapable of thought, and the third kind, a more metaphorical version — the things in life we have to deal with that are unpleasant and get in the way of forward progress.
Today is Thursday and the last time I wrote was Saturday. I usually write every day, but the last several day became headaches in all sorts of ways.
Travel. My family and I traveled back to Maryland for Pesach and we got our routines all out of sorts. (Loved being there though.)
Work, which isn't itself a headache, but we've had some weird complaints and situations that needed to be resolved this week.
Death. Followers on Facebook will know that I attended a viewing yesterday for a 31 year old woman who died of cancer, leaving a 2 year old son behind.  That's a showstopper.
Frustration. Frustration with myself for not being better (whatever that means), for not writing more, for not losing weight no matter what I do, and frustration with the waiting, an inherent part of writing and submitting. Frustration with not being able to make my writing career (loosely defined) move FASTER.
And one more added to the day. The small photo I am using above, within the text, is titled "Chubby Woman with a Headache." Screw you, whomever named that one.
I've been in this spot before for different reasons and I keep reminding myself that advances don't always come in a straight upwards, gradually improving line. Sometimes forward motion comes in spits and starts. Plateaus followed by leaps. That is what I am counting on.
What are your headaches? What do you do to manage them?